DevvStream Adds Soil Restoration Technology to its Ecosystem of Ag-Tech Solutions with VRM Biologik Agreement
March 13, 2023
DevvStream acquires streaming rights for carbon credits generated by VRM Biologik and will provide carbon credit management services
VANCOUVER, BC, March 13, 2023 — DevvStream Holdings Inc. ("DevvStream" or the "Company") (NEO:DESG), a leading carbon credit investment firm specializing in technology solutions, today announced an exclusive carbon credits management agreement with VRM Biologik, a leading soil restoration technology company whose proprietary products regenerate farmlands by stimulating Biological Hydrosynthesis—a natural reaction that captures atmospheric carbon and results in the manufacture of additional water—in depleted and arid soils. The patented process occurs via the conversion of organic waste into high-value agricultural inputs without wholesale carbon emissions. These inputs are subsequently used to catalyze natural reactions in soil that capture atmospheric carbon and produce moisture independent of rainfall, allowing stakeholders to reduce carbon emissions significantly. Under the agreement, DevvStream acquires exclusive rights and title to carbon credits resulting from projects developed by VRM Biologik, and will additionally manage the creation, validation, certification, registration, storage, security and liquidation of project credits.
Highlights
DevvStream acquires exclusive carbon streaming rights
DevvStream will serve as carbon credit manager for VRM Biologik's projects
Regenerative agriculture could result in the capture and storage of up to 250 million metric tons of carbon dioxide in the U.S. annually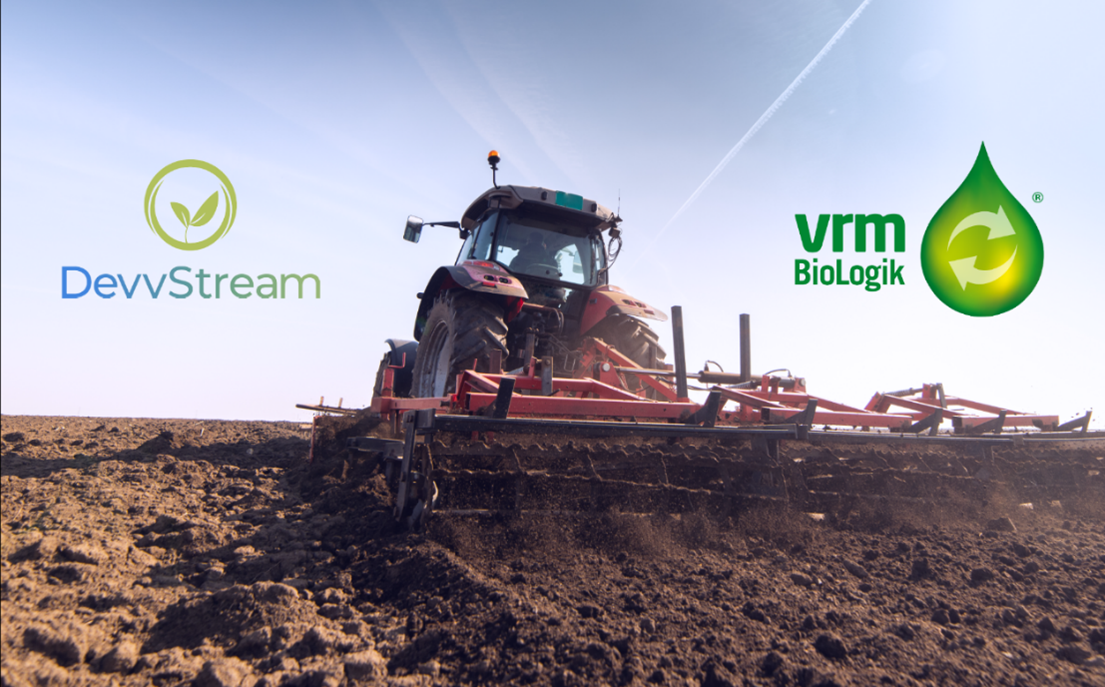 An estimated 33 percent of the world's soils are already degraded, and at the current rate of depletion, the world's topsoil could disappear within 60 years1. The health of soil is measured, in part, by the amount of organic matter present—hydrogen, carbon, and nitrogen, for example. For soil to be considered healthy, it must contain approximately 4 percent organic matter. However, studies by the Food and Agriculture Organization of the United Nations suggest that approximately one-third of the world's productive topsoil has degenerated to the point of having only 0.5 percent organic matter present.
Regenerative agriculture technologies and practices have the potential to improve soil health dramatically, providing not only environmental and human health benefits but also sequestering carbon from the atmosphere. In fact, according to the National Academy of Sciences, the adoption of regenerative agriculture could result in the capture and storage of up to 250 million metric tons of carbon dioxide annually in the United States alone—nearly 5 percent of the nation's emissions2. Once measured and quantified, this increase in carbon-trapping capability can be translated directly into high-quality carbon credits.
"VRM Biologik's soil restoration technologies have the potential to cut water usage, reduce dependence on chemical fertilizers, and increase crop and livestock yields by up to 200 percent, which helps the overall climate, global health, and our community of farmers and ranchers," said Sunny Trinh, CEO of DevvStream. "This partnership provides DevvStream with the ability to generate high-quality, verifiable carbon credits from a variety of projects in the agricultural space, including large-scale, land-based opportunities we're currently pursuing in North and South America."
"In our engagements with governments, farmers and landholders, we are always looking to maximize project outcomes and reinforce overall sustainability," said Kellie Walters, CEO of VRM Biologik. "Our partnership with DevvStream incorporates measured carbon outcomes, enabling ESG funding for projects that matter. Delivering externally validated results also supports our clients' participation in advanced credit-based markets and ensures that participants sustain the management of revitalized land."
About VRM Biologik
VRM Biologik has developed methods and products to enhance photosynthesis and hydrogen management in soils and water. This includes the revolutionary deployment of catalysts that stimulate Biological Hydrosynthesis – a natural reaction which captures atmospheric carbon and results in the manufacture of additional water – in depleted and dry soils. The VRM Biologik Group, operates regenerative programs across Asia, the Middle East and North America and maintains offices in Australia, China, USA and UAE. For more information, please visit www.vrmbiologik.com.
About DevvStream
DevvStream is a technology-based ESG company that advances the development and monetization of environmental assets, with an initial focus on carbon markets. DevvStream works with governments and corporations worldwide to achieve their sustainability goals through the implementation of curated green technology projects that generate renewable energy, improve energy efficiencies, eliminate or reduce emissions, and sequester carbon directly from the air. DevvStream also helps these organizations meet their net zero goals by providing them access to high-quality carbon credits. For more information, please visit www.devvstream.com.
On Behalf of the Board of Directors,
Sunny Trinh, CEO
For further information please contact:
Focus Communications
Tel: +1 647 689 6041
Email: info@fcir.ca
Disclaimer
This news release contains forward-looking statements, including statements that are not historical facts. All statements other than statements of historical fact included in this release are forward-looking statements. The reader is cautioned that assumptions used in the preparation of any forward-looking information may prove to be incorrect. Events or circumstances may cause actual results to differ materially from those predicted, as a result of numerous known and unknown risks, uncertainties, and other factors, many of which are beyond the control of the Company, and which are described in the Company's public filings available under its profile at www.sedar.com. The reader is cautioned not to place undue reliance on any forward-looking information. Forward-looking statements contained in this news release are expressly qualified by this cautionary statement. The forward-looking statements contained in this news release are made as of the date of this news release and the Company does not intend to update any of the included forward-looking statements except as required by Canadian securities laws.
Resources
https://www.forbes.com/sites/daphneewingchow/2020/06/24/earths-rapidly-degrading-soil-is-bad-news-for-human-health/