DevvStream Partners with Prosper Technologies and Appoints Dr. Michael Max Bühler to the company's Board of Directors
Prosper's patented GI technology reduces wastewater energy consumption of industrial plants by up to 85%
VANCOUVER, BC, April 21, 2023 — DevvStream Holdings Inc. ("DevvStream" or the "Company") (NEO:DESG), a leading carbon credit investment firm specializing in technology solutions, today announced the appointment of Dr. Michael Max Bühler to its Board of Directors, as well as an exclusive carbon credit management agreement with Prosper Technologies (Prosper), an innovative provider of gas infusion (GI) technologies. Prosper's patented GI process results in the creation of very stable, highly oxygenated water at a fraction of the cost and with significantly lower energy consumption than alternative methods. An important application of Prosper's GI process is wastewater treatment, where it reduces the energy consumption of industrial plants by up to 85%1, a savings which readily translates into high-quality carbon credit generation. Under the agreement, DevvStream acquires exclusive rights and title to carbon credits resulting from projects developed by Prosper, and will additionally manage the creation, validation, certification, registration, storage, security and liquidation of project credits.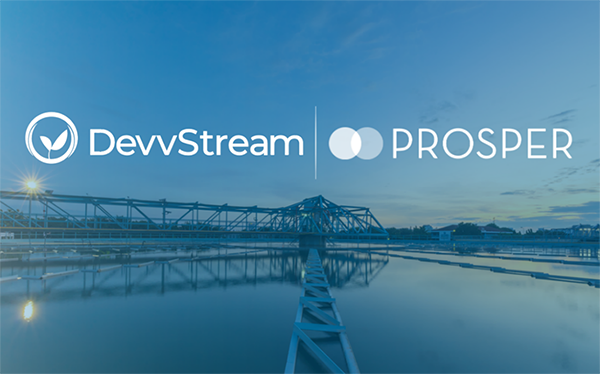 A vast majority of human activities that require water result in the production of wastewater. Every year, approximately 380 billion cubic meters of municipal wastewater are generated worldwide, with production expected to grow by nearly 25% by 2030 and more than 50% by 20502. The continuous increases in wastewater production—along with a burgeoning understanding of wastewater's potential benefits as a widely available and valuable resource—are driving the expansion of the wastewater industry. Already valued at approximately $117 billion in 2021, the wastewater treatment market is expected to reach nearly 200 billion by 20303.
According to the International Water Association (IWA) wastewater treatment plants consume considerable amounts of energy, between 1% and 3% of total global energy output4. The most advanced, energy-efficient facilities are estimated to consume approximately 20-45 kWh per population equivalent (PE), while older facilities typically consume significantly more. Gas infusion technologies such as those developed by Prosper have the potential to reduce the energy consumption of these plants by up to 85%, offering substantial carbon credit generation opportunities.
"Prosper is a pioneer of gas infusion technologies and a proven leader in water treatment and restoration," said Sunny Trinh, CEO of DevvStream. "Their solution is not only tremendously effective, but highly scalable as well, which is vital given the importance of wastewater treatment to every municipality on the planet. We will jointly target these municipalities through DevvStream's relationships with Global Green, United Cities North America (UCNA) and Marmota, generating high-quality, verifiable carbon credits by directly and measurably decreasing the energy consumption of wastewater treatment facilities globally."
"Prosper is very excited to be working with DevvStream as our carbon partner," said Max MacKenzie, CEO of Prosper. "Our relationship with DevvStream will allow us to leverage our carbon credits to invest those funds into installing solar panels at our water treatment projects. We strongly believe this is the final piece of the plan in Prosper's goal to become the first Net Zero aeration system for water treatment."
In addition to the Prosper agreement, DevvStream also announced the appointment of Dr. Michael Max Bühler to the company's Board of Directors. Dr. Bühler is the former Director and Head of Infrastructure & Urban Development Industries for the World Economic Forum (WEF), an international non-governmental organization that engages visionary leaders to help shape regional, global and industry-specific agendas. Dr Bühler currently serves as a member of the Group of Twenty (G20) and Think20 Engagement Group (T20) Infrastructure Investment & Financing Task Force (Task Force 7), as well as the G20 Global Infrastructure Hub Academic Advisory Panel.
"Michael brings a wealth of experience and a sharp perspective on the state of global affairs with respect to economic markets, investment practices, and the role of technology-based carbon credits in achieving the world's sustainability goals," said Sunny Trinh, CEO of DevvStream. "Michael did critical work with international organizations such as the World Economic Forum, the UN, the OECD, the G20 and is currently a professor at the University of Applied Sciences in Konstanz Germany. His commitment to ensuring that the ESG sector fulfills its true promise through greater accountability, transparency, and data-driven methodologies makes him an ideal fit for our team at DevvStream. We are honored to have Michael join the board."
"It is a great privilege to be appointed to the Board of Directors of DevvStream," said Dr. Bühler. "DevvStream is a global pioneer in leveraging cutting-edge technologies to enhance and capitalize on environmental assets and accelerate fundamental and necessary change in the ESG sector. As an Independent Director, I am committed to the implementation of unprecedented transparency and integrity in ESG reporting and to helping create an industry-leading standard of trust and accountability that enables DevvStream's stakeholders to make informed and impactful decisions. By leveraging data-driven insights and customized carbon credit technology solutions, DevvStream plays an important role in mitigating financial risk for institutional and retail investors, while helping organizations and governments strategically align investments to maximize carbon abatement outcomes. Our unwavering commitment to ethical values makes DevvStream a pioneer of progress and a leader in addressing the world's greatest environmental challenges. As a member of the Board of Directors, I am eager to contribute to the company's corporate governance, core values, vision, and mission, and to play a proactive role in driving much-needed change toward a sustainable and equitable global landscape. By promoting responsible investment practices, together we can pave the way for a cleaner and greener future for generations to come."
As Dr. Bühler joins the board, current director Will Stewart will shift to a Board Advisory role.
About Prosper Technologies
Prosper Technologies is a broad platform technology company that owns an intellectual property portfolio of several Gas Infusion (GI) patents. Our GI process is primarily used to infuse high concentrations of oxygen into liquids. Our technology is a unique Nano technology and the only one in the world that can instantaneously infuse supersaturated levels of oxygen into liquids, while simultaneously removing a gas. The GI process provides more room for dissolved oxygen, thus creating very stable, highly oxygenated water or liquids.
The very stable and extended oxygen retention delivers unprecedented results in industries such as agriculture, water treatment, wellness & healthcare, energy, consumer goods, and aquaculture. Our gas transfer process occurs through a proprietary GI module that is easy to use, maintain, and has a low cost of use. Prosper's GI modules are very versatile and can infuse various gases such as O2 and CO2. For more information, please visit http://www.prosperth.com/.
About DevvStream
DevvStream is a technology-based ESG company that advances the development and monetization of environmental assets, with an initial focus on carbon markets. DevvStream works with governments and corporations worldwide to achieve their sustainability goals through the implementation of curated green technology projects that generate renewable energy, improve energy efficiencies, eliminate or reduce emissions, and sequester carbon directly from the air. DevvStream also helps these organizations meet their net zero goals by providing them access to high-quality carbon credits. For more information, please visit www.devvstream.com.
On Behalf of the Board of Directors,
Sunny Trinh, CEO
For further information please contact:
Focus Communications
Tel: +1 647 689 6041
Email: info@fcir.ca
Disclaimer
This news release contains forward-looking statements, including statements that are not historical facts. All statements other than statements of historical fact included in this release are forward-looking statements. The reader is cautioned that assumptions used in the preparation of any forward-looking information may prove to be incorrect. Events or circumstances may cause actual results to differ materially from those predicted, as a result of numerous known and unknown risks, uncertainties, and other factors, many of which are beyond the control of the Company, and which are described in the Company's public filings available under its profile at www.sedar.com. The reader is cautioned not to place undue reliance on any forward-looking information. Forward-looking statements contained in this news release are expressly qualified by this cautionary statement. The forward-looking statements contained in this news release are made as of the date of this news release and the Company does not intend to update any of the included forward-looking statements except as required by Canadian securities laws.
Resources
Prosper Technologies company data
https://www.prnewswire.com/news-releases/global-wastewater-treatment-plants-market-value-to-reach-194-5-billion-by-2030--says-ps-intelligence-301536968.html