DevvStream Files Provisional Patents to Improve Efficiencies in Carbon Credit Generation
January 25, 2023
With two provisional patents filed and a third pending, DevvStream is establishing a proprietary process for the creation of robust, inclusive, and efficient carbon credit generation programs globally
VANCOUVER, BC, January 25, 2023 — DevvStream Holdings Inc. ("DevvStream" or the "Company") (NEO:DESG), a leading carbon credit investment firm specializing in technology solutions, today announced the filing of provisional patent applications surrounding its innovative programmatic approach to green project management and carbon credit generation. These initial filings establish concrete definitions for, and stake boundaries around, the Company's exclusive processes and methodologies.
The provisional patents are primarily focused on the establishment of a proprietary umbrella approach to program implementation across the scope of the Company's operations. This umbrella approach will allow the Company to aggregate multiple green technology projects together under a single designated program, resulting in several anticipated efficiency improvements. Implementation costs are expected to be reduced, current barriers to participation are expected to be eliminated, and the process for generating carbon credits is expected to accelerate.
"The current rate of greenhouse gas emissions underscores the importance of creating carbon credit programs that are robust and far-reaching, yet nimble and efficiently operated," said Sunny Trinh, CEO of DevvStream. "By combining relevant green technology projects under the auspices of a common program, we can, for example, plug and seal a greater number of leaky wellbores more quickly under our methane abatement programs, including oil wells that might otherwise fail to qualify due to size or location. We anticipate that our proprietary approach will broaden our client reach, and by extension, broaden our overall environmental impact as a company."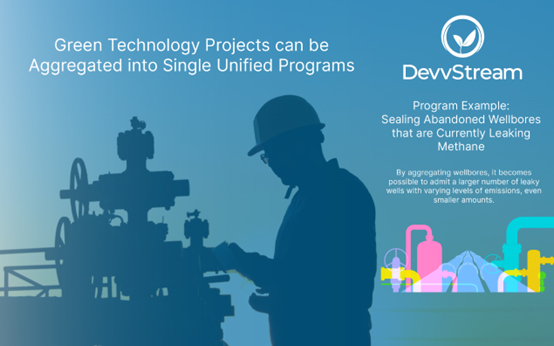 About DevvStream
DevvStream is a technology-based ESG company that advances the development and monetization of environmental assets, with an initial focus on carbon markets. We work with governments and corporations worldwide to achieve their sustainability goals through the implementation of curated green technology projects that generate renewable energy, improve energy efficiencies, eliminate or reduce emissions, and sequester carbon directly from the air—creating carbon credits in the process. This enables us to provide non-dilutive capital directly to our clients while empowering them with field-proven, technology-based solutions to improve their climate impact quickly and simply. To address common issues such as greenwashing and double-counting, all environmental assets created through our projects are managed via a proprietary blockchain-based ESG software platform, designed explicitly to ensure transparency and auditability, with full data provenance, which significantly increases asset value.
DevvStream's business model includes mutual collaboration and partnership with Devvio (www.devv.io), a leading ESG-focused blockchain company; Global Green (www.globalgreen.org), an international nonprofit that helps governments and Fortune 100 companies meet their climate goals; Marmota (www.marmota.ca), a Canada-based JV specializing in environmental asset creation, green project management, emissions mitigation, and sustainable financing for municipal, provincial and federal governments; and United Cities North America (www.unitedcities.io), an affiliate of the United Nations with a focus on building sustainable and net-zero smart cities and communities. For more information, please visit www.devvstream.com.
On Behalf of the Board of Directors,
Sunny Trinh, CEO
For further information please contact:
Focus Communications
Tel: +1 647 689 6041
Email: info@fcir.ca
Disclaimer
This news release contains forward-looking statements, including statements that are not historical facts. All statements other than statements of historical fact included in this release are forward-looking statements. The reader is cautioned that assumptions used in the preparation of any forward-looking information may prove to be incorrect. Events or circumstances may cause actual results to differ materially from those predicted, as a result of numerous known and unknown risks, uncertainties, and other factors, many of which are beyond the control of the Company, and which are described in the Company's public filings available under its profile at www.sedar.com. The reader is cautioned not to place undue reliance on any forward-looking information. Forward-looking statements contained in this news release are expressly qualified by this cautionary statement. The forward-looking statements contained in this news release are made as of the date of this news release and the Company does not intend to update any of the included forward-looking statements except as required by Canadian securities laws.