DevvStream Issues Update on Current Offset Programs
DevvStream has made stable progress on multiple projects and developments in the first four months since public listing
All dollar figures are in Canadian dollars unless otherwise noted.
VANCOUVER, BC, May 23rd, 2023 — DevvStream Holdings Inc. ("DevvStream" or the "Company") (NEO:DESG)(OTCQB:DSTRF)(FSE:CQ0) is pleased to update shareholders on major developments within the Company's portfolio and address several aspects that have matured during the first four months of its public listing on the Cboe Canada Exchange (formerly the 'NEO Exchange').
"During the last 4 months, DevvStream has accomplished multiple milestones which have set the Company in a leadership position amongst our peers and is on pace to generate our first set of credits by the end of 2023," said Sunny Trinh, CEO of DevvStream. "As the carbon credit market continues to evolve and demonstrate its key role in the world's transition towards decarbonization, so has the offering that DevvStream provides to its current and prospective partners. DevvStream provides its partner ecosystem with the ability to develop carbon credit streams backed by various technology-enabled efficiency mandates, such as the electrification of municipal transportation. We are able to deliver this offering through the interpretation of data and the application of methodologies that exist all over the world. We are excited in our pursuit of being a part of the global decarbonization solution and we look forward to further updating shareholders on milestones that will substantiate DevvStream's leadership position in the carbon credit space."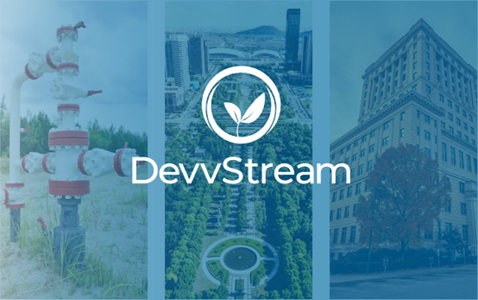 DevvStream Oil Well Plugging Carbon Offset Program (OWPCOP)
DevvStream is in the final stages of completing the development of a comprehensive offset program known as the "Oil Well Plugging Carbon Offset Program (OWPCOP)." This program aims to facilitate the generation of carbon credits in a fast and efficient manner for any organization involved in plugging oil wells in the United States and Canada. It is based on the "Abandoned and Orphaned Oil and Gas Wells methodology" by the American Carbon Registry (ACR), which is currently undergoing its final phase of public release.
This ground breaking program will be the first of its kind worldwide, allowing industry organizations to earn additional revenue through carbon credits when they plug abandoned and/or orphaned oil wells. The program is designed to accommodate an unlimited number of wells and participants, with the flexibility to incorporate new additions over time.
In one Canadian province, DevvStream is developing an equivalent offset program specifically tailored to meet the requirements of the regulated TIER program. Once approved, this program will enable the marketing of credits generated as compliance units, making them eligible under Canadian regulations and initiatives such as OBPS-regulated entities (Output-Based Pricing System).
Furthermore, DevvStream is actively collaborating with a recognized international Program Authority to establish an equivalent quantification methodology for overseas markets. This publication will pave the way for oil well plugging activities across the globe to generate carbon credits.
Concurrently, we are working alongside our partner, TS Nano, in their mission to combat methane gas emissions from leaky, abandoned, and orphaned oil and gas wellbores. TS Nano has developed a patented sealant technology specifically designed for this purpose. DevvStream has entered into a contract with TS Nano to serve as their principal carbon streaming partner, responsible for managing the carbon credits generated through the application of TS Nano's ground breaking technology. As of now, TS Nano has successfully plugged seven wells using a testing rig in compliance with ACR's methodology.
Carbon Offset Program for Canadian Municipalities and Provincial Governments via Joint Venture with Marmota
Marmota, a DevvStream joint venture and privately-owned company, is dedicated to establishing carbon credit streams in collaboration with Canadian municipalities and Provincial organizations. Marmota has been actively involved in discussions with various Canadian municipalities to assist them in achieving their climate objectives through the development of carbon credit projects.
Currently, Marmota is in the final stage of the Request for Proposals ("RFP") process with two municipalities located in Eastern Canada. The company anticipates making formal announcements regarding these programs in the near future. If the combined initiatives of these initial two municipalities align with the previously established emission reduction goals, both have the potential to generate up to two million carbon credits annually for a period of 10 years or more.
In addition to these two municipalities, Marmota has also submitted a proposal to a provincial government in Canada, which has been positively received. The proposal outlines two potential programs. The first program focuses on a fuel switching project that could generate up to 500,000 credits per year over a 10-year period.
DevvStream's Buildings and Facilities Carbon Offset Program (BFCOP)
DevvStream is set to launch an innovative offset program known as the Building and Facilities Carbon Offset Program (BFCOP). This program is the first of its kind and aims to remove barriers for organizations looking to generate carbon credit revenue in three specific categories: energy demand activities such as energy and fuel efficiency activities, onsite renewable energy generation, and electric vehicle (EV) charging stations. Initially, the BFCOP will be introduced in the United States and Canada, with plans to expand into the European Union at a later stage. The program is expected to become operational in the summer of 2023.
Residential, commercial, and institutional buildings, whether they are newly constructed or undergoing retrofitting, are eligible to participate in the BFCOP. Notably, there is no cost associated with joining the program, making it an accessible opportunity for a wide range of entities.
Following the announcement of the BFCOP, DevvStream has already begun negotiations with various commercial real estate developers and owners.
DevvStream continues to be encouraged by the pipeline of opportunity that is available to it within the carbon credit space. Further, it expects that its project pipeline will continue to increase in quality as the Company demonstrates its unique ability to generate credits from new projects rather than purchasing existing streams where quality and transparency is not always present.
About DevvStream
DevvStream is a technology-based carbon credit company that advances the development and monetization of environmental assets, with an initial focus on carbon markets. Devvstream works with governments and corporations worldwide to achieve their sustainability goals through the implementation of curated green technology projects that generate renewable energy, improve energy efficiencies, eliminate or reduce emissions, and sequester carbon directly from the air—creating carbon credits in the process.
For more information, please visit www.devvstream.com.
Disclaimer
This news release contains forward-looking statements, including statements that are not historical facts. All statements other than statements of historical fact included in this release are forward-looking statements. Forward looking statements include reference to the commercial projections and viability of any of the Company's carbon credit programs and partnerships. The reader is cautioned that assumptions used in the preparation of any forward-looking information may prove to be incorrect. Events or circumstances may cause actual results to differ materially from those predicted, as a result of numerous known and unknown risks, uncertainties, and other factors, many of which are beyond the control of the Company, and which are described in the Company's public filings available under its profile at www.sedar.com. The reader is cautioned not to place undue reliance on any forward-looking information. Forward-looking statements contained in this news release are expressly qualified by this cautionary statement. The forward-looking statements contained in this news release are made as of the date of this news release and the Company does not intend to update any of the included forward-looking statements except as required by Canadian securities laws.