DevvStream Joins Xpansiv's CBL, the Largest Global Spot Exchange for Environmental Commodities
DevvStream now has access to the world's most extensive carbon credit market
VANCOUVER, BC, June 14th, 2023 — DevvStream Holdings Inc. ("DevvStream" or the "Company") (NEO:DESG), a leading carbon credit investment firm specializing in technology solutions, today announced its formal acceptance onto CBL, a global spot exchange for transacting energy and environmental commodity products such as carbon, renewable energy, water, and digital natural gas. CBL is part of Xpansiv, a global market infrastructure for registering, managing, trading, settling, retiring, analyzing, and reporting data-driven environmental commodities.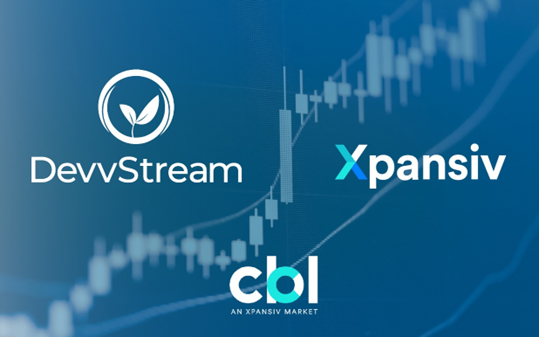 Acceptance to the CBL also enables DevvStream to use Xpansiv's Environmental Management Account (EMA) platform, a powerful portfolio management system that enables users to manage carbon credits and renewable energy certificates (RECs) positions across Verra, the American Carbon Registry (ACR) and 11 other leading registries, from a single interface. The EMA platform enables participants to administer their environmental portfolios in real-time in response to rules changes, access accounts across multiple entities, and potentially manage hundreds of portfolio positions.
"DevvStream is proud to have been accepted as a participant on CBL, which includes some of the most recognizable names in the industry," said Sunny Trinh, CEO of DevvStream. "CBL is the largest, and most efficient spot markets for environmental commodities, providing the Company with a clear path to the open market via a trusted, world-class platform. Onboarding with Xpansiv demonstrates DevvStream's ongoing commitment to operational excellence as we continue to execute on our overarching business plan."
About DevvStream
DevvStream is a technology-based ESG company that advances the development and monetization of environmental assets, with an initial focus on carbon markets. DevvStream works with governments and corporations worldwide to achieve their sustainability goals through the implementation of curated green technology projects that generate renewable energy, improve energy efficiencies, eliminate or reduce emissions, and sequester carbon directly from the air. DevvStream also helps these organizations meet their net zero goals by providing them access to high-quality carbon credits. For more information, please visit www.devvstream.com.
On Behalf of the Board of Directors,
Sunny Trinh, CEO
For further information please contact:
Focus Communications
Tel: +1 647 689 6041
Email: info@fcir.ca
Disclaimer
This news release contains forward-looking statements, including statements that are not historical facts. All statements other than statements of historical fact included in this release are forward-looking statements. The reader is cautioned that assumptions used in the preparation of any forward-looking information may prove to be incorrect. Events or circumstances may cause actual results to differ materially from those predicted, as a result of numerous known and unknown risks, uncertainties, and other factors, many of which are beyond the control of the Company, and which are described in the Company's public filings available under its profile at www.sedar.com. The reader is cautioned not to place undue reliance on any forward-looking information. Forward-looking statements contained in this news release are expressly qualified by this cautionary statement. The forward-looking statements contained in this news release are made as of the date of this news release and the Company does not intend to update any of the included forward-looking statements except as required by Canadian securities laws.